Online Course: A320 FAP for Cabin Crew
Master Airbus A320 Flight Attendant Panel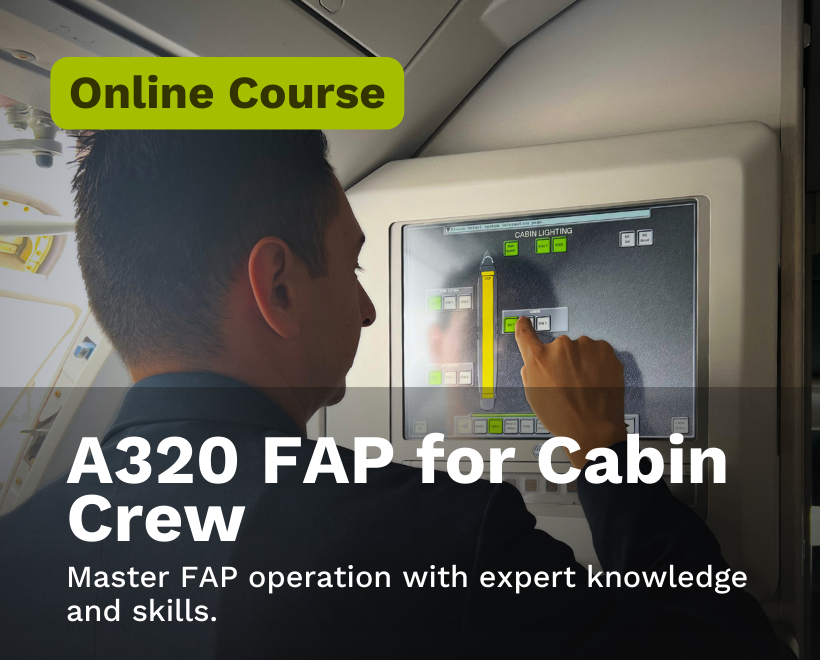 Description
Gain comprehensive expertise in the Flight Attendant Panel (FAP) of the Airbus A320 family, including the differences between the Neo and CEO, as well as the Classic Version and Enhanced Version. Dive deep into the intricacies of the FAP Pages, mastering audio management, lights, doors/slides, temperature, water and waste systems, smoke detection, FAP configurations, and seat seating arrangements.
Moreover, unravel the mysteries of the vital Cabin Intercommunication Data System (CIDS), the central control unit that governs all related systems, ensuring efficient and coordinated cabin operations.
Led by seasoned aviation professionals, our interactive learning experience and flexible scheduling provide you with a competitive edge, opening up boundless opportunities in your cabin crew career.
Disclaimer: This course provides supplementary knowledge and does not replace any official training or certification required by airlines or aviation authorities.
What will you learn?
Differences between Neo and CEO versions
Understanding the Classic Version and Enhanced Version
Flight Attendant Panel (FAP) operations
Gain insight into the Additional Attendant Panel.
Comprehend the Attendant Indication Panel.
Understand the Area Call Panel.
Who is this course for?
Aspiring Flight Attendants
Current Flight Attendants
Airlines and Aviation Professionals
Course Content
Lesson 1:
A320S - Presentation
Lesson 2:
A320 FAP Trainer
Lesson 1:
FAP - Flight Attendant Panel
Lesson 2:
AAP - Additional Attendant Panel
Lesson 3:
ACP - Area Call Panel
Lesson 4:
AIP - Attendant Indication Panel
Lesson 2:
Cabin Programming