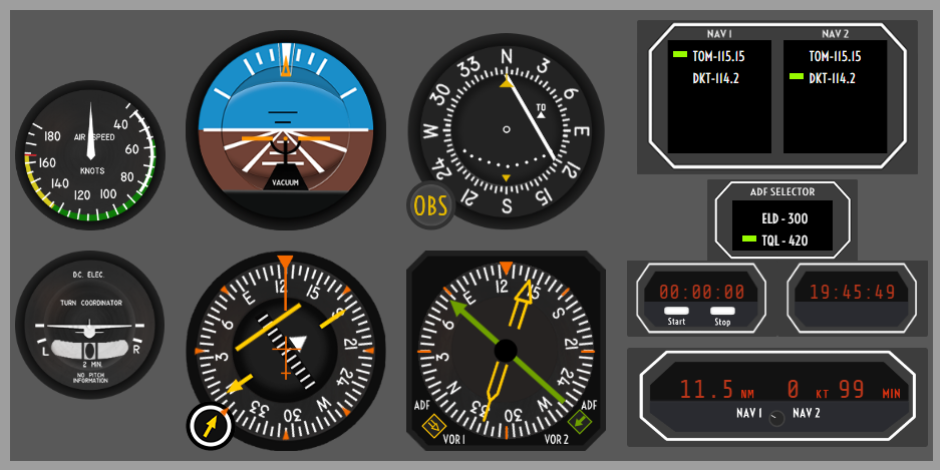 Navigation

Trainer
Practice IFR procedures using VOR, HSI, RMI, ADF and DME.
Cockpit Instruments
available

Airspeed Indicator
Speed up, slow down or even stop if you need to check your procedure.

Attitude Indicator
One of the most basic instrument in the cockpit!

VOR/CDI
Practice with the most basic instrument for radionavigation

Turn Coordinator
Check your turn-rate to ensure the proper procedures

HSI
Learn and practice your procedures in one of the most modern navigation instruments

RMI
Antique but not useless! You can still find an RMI in the modern cockpits.
Basic flight and navigation instruments
Our simulator has one of the most complete panels for training radionavigation procedures. The panel includes three of the most basic flight instruments: Artificial Horizon, Anemometer and Turn Coordinator.
For navigation, it has a VOR, HSI and RMI, three of the most used radionavigation instruments in the world. It also includes an ADF selector for the RMI, so that you can navigate using NDB stations and two VOR receivers.
As in all modern cabins, you will find a DME that will allow you to know the distance to ground stations. So you can navigate air routes, fly arches and other procedures that depend on the distance.
Exercises and challenges:
You have more than 100 exercises and challenges that will help you learn or practice each procedure
Navigation Charts:
We designed some navigation charts that can be used to navigate through defined routes, perform DME arcs and and holdings over VORs.
Pricing
Select the best choice for you
Personal use license only
Academic specially for Training Centers
All functions available
Upload your logo
Upload custom pre-recorded announcements
Email support
Academic Extended
$250
per 20 licenses (60 days)
Extend your license for 30 days to your students
All functions available
Upload your logo
Upload custom pre-recorded announcements
Email support
Dashboard for license management
Academic License included
Looking for a custom solution?
Contact our experts and they will help you build a custom suite training for you.